Your museum is open again!
We've repaired and painted, we've laid new flooring, we've moved everything.... and now we're ready to receive our visitors.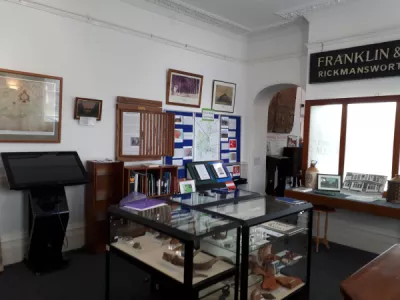 After several years, it was time for a freshen up. So we closed for the winter, and have been busy giving ourselves a new appearance.
The small 'William Penn' room at the back has suffered quite badly over the last few years, and needed quite a lot of work: and our carpet has become very tired. And in any case, we want to re-present ourselves, so that we can tell the story better - "What was it like to live and work round here?"
You'll see quite a change: we be open from Thursday 17th March, having repaired and repainted, moved things around (some of them out) and laid a new floor. We have new displays and exhibits, and some new ways of presenting our information, especially with a new digital display so that everyone can see, and hear, much more of our collection of photos as well as audio. And we'll be continuing to add to it!
The 'William Penn' room has been re-named, and we'll now know it as 'The Basing Room'. Part of the problem was that there's another William Penn room in the building, which caused confusion. And while our display to present William Penn is still prominent (but moved), there's more in the Basing Room than that.
The new flooring was laid in the first few days of February, and it's taken the collections team several weeks to lay out our new displays and get the digital 'kiosk' in, and up and running. It hasn't all gone back in the same place, and a number of favourite items have been given a rest. But we have a great wealth of material to tell our story, and some of that has been brought forward.

But now, we're ready! Come and see.