Obituary - Mrs Barbara Owen MBE
Barbara Owen (1921-2019), our chairman from 1998.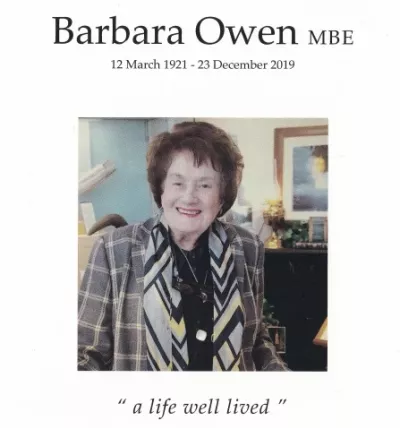 (The life of Barbara Owen as written by her daughter Helen Swaris, and spoken at the Thanksgiving Service at St Marys Church Rickmansworth on Friday 10 January 2020)
We are here today to give thanks for the life of our mother, known to many of you as Barbara and fondly by her grandchildren as Baba.
As many have commented, Barbara was a gifted woman of warm-hearted generosity, great vision and determination, and somebody who got things done! I am sure Richard Page, former MP for West Herts and former Patron of the Museum of Three Rivers would not mind if I quote him: "Barbara was a doer and her efforts to support the local scene were not only constant but vigorous with it. The two of them, Barbara and Kay Mendelssohn were a force to be reckoned with and it was a brave person who dared to cross swords with them. I was never that brave!!"
Barbara was born in Ebury Road, Rickmansworth in 1921, the youngest daughter of Joseph and Ellen Gravestock and sister to Marion. At the age of 10, she won a scholarship based on academic achievement to Watford Girls Grammar School and the following year, in 1932, the family moved to what we remember as their family home, Beechmont, 11 The Cloisters. At Watford Girls, Barbara was keen on sports excelling particularly at netball where she played in the County team. She gained matriculation and her Higher Schools Certificate which was the springboard to higher education and in those days more difficult to attain for girls than for boys. During her final year she was already being recognised for her leadership qualities by being appointed Head Girl.
In 1939 she gained entry to the National Society Teacher Training College as part of the University of London based in Hampstead; but by this time war was looming and Barbara and her fellow students found themselves evacuated to Bournemouth where, as part of their studies, they were engaged in working for the war effort. She recounted to us interesting stories of cooking for the French soldiers and spending time with the GIs! Once again her leadership skills came to the fore when she was appointed President of the Students' Union. Barbara was very good at cultivating lasting friendships from her school and college days the legacies of which lasted throughout her life.
By 1942, Barbara found herself back in London teaching at Preston Manor High School where four years later she was introduced by one of her teaching colleagues to their brother, and our father to be, Jack Owen. It was now 1946 and Jack had just left the Merchant Navy where he had been serving as a Lieutenant for 14 years. Tall and handsome as he was, Barbara was swept off her feet, they were engaged that year and married in 1947 here in St. Marys.
They started their married life in Southgate, North London. Barbara stopped teaching and there followed a succession of children, Margaret in 1948, Helen in 1950 and Sarah in 1953. Unfortunately our father was diagnosed with tuberculosis in 1954 and spent the next 18 months in a hospital and sanatorium. In a time of no sickness benefit or state support, Barbara, ever resourceful made all our clothes to an exceptionally high standard out of recycled clothing and, with her college training, was able to feed us nutritiously from whatever ingredients she was able to afford. Relatives and college friends were a huge support to her at this time. By 1956, Jack was recovered and back at work and things had settled down. Barbara longed to move back to Rickmansworth and she and Jack on a visit one day found the house in Copthorne Road. They never looked back, Jane was on the way and born in March 1957 and six months later in November the whole family moved into 23, Copthorne Road a house which my mother loved and which had remained her home ever since.
The next six years were a time of very happy family life close to our grandparents and many relatives in Rickmansworth. Our grandmother, Mrs Ellen Gravestock, was well known in the local community and Barbara helped her often with local affairs, not least the commencement of the Rickmansworth Society. For us children, Jack and Barbara ensured that attention to education was most important and during this time Margaret and Helen gained places at Rickmansworth Grammar School.
Sadly tragedy struck in 1963 when Jack died from a heart attack after only a short illness. Barbara was faced with many challenges, not least, in those days, the wife having to pay death duties on her husband's estate. She knew she would need to return to teaching and after 16 years out of the profession, found the prospect daunting. She was only 42 with four daughters aged 14, 13, 10 and 6. Fortunately she had been an examiner for the London and Oxford University examination boards, since stopping teaching in 1947, setting examination papers and rising to Chief Examiner. This was to stand her in good stead.
She approached the Headmistress of Watford Girls Grammar School who, remembering Barbara as Head Girl, created a job for her teaching Mathematics and PE. This gave her the confidence to move forward and a year later she continued her career at St. Joan of Arc School teaching the subjects in which she had trained, Food and Nutrition and Textiles. She created and headed up her own extended department, finally retiring in 1986 as Acting Deputy Headteacher aged 65. During this time she had forged many lasting acquaintances with both colleagues and pupils.
In the intervening years, however, she had always had time for us children and wider family. Barbara naturally had a heart for young people. Our home in Copthorne Road was "open house" to all our friends even to the point of trusting us as older teenagers to host Christmas parties for over 100 of our friends while she went round next door! She often said there was less damage caused by teenagers than by all the elderly relations at the family get togethers! Our friends would often come round just to talk to her and this interest and time for young people lasted throughout her life. For us, her own daughters, she was absolutely adamant that we should all enter careers where we would be able to support ourselves independently and to her mind, in those days, nothing less than Teacher Training College or University was an option. Despite protests, we duly complied and now thank her for it!
Retirement at 65, however, did not sit well with Barbara. Initially she recounted to me that she was determined to do something new every day. On one occasion she decided to take the car through the automatic car wash without realising that the sunroof was partially open. She, and the car, were absolutely drenched. Needless to say, she was more concerned about her hair than the car!! She also tried to keep her mind alert with the Telegraph crossword. Our husbands were wonderful at sitting with her fielding clues whilst if we, on passing said that we did not know, would be met with the retort "well, you must have got some idea"!
Barbara however did not stay retired for long, ever resourceful, she returned to teaching part-time at the Royal Masonic School, St Clement Danes, the RSI Blind School and more! She did not retire from the classroom until she was aged 80! And these years were in tandem with running a catering business and undertaking voluntary work where many of you will have known her as Secretary of the Rickmansworth Society, Vice Chairman of the Three Rivers Museum Trust and in 1997 becoming Chairman a position she held to the present day. There was also running the catering team here, at St. Mary's; caring for the costume collection at The Museum of London, a position she loved for 16 years, and being a Steward for the National Trust at "Shaws Corner" for 20 years. She was also a driver for the Red Cross at the age of 87, and a welcomer at St. Alban's Abbey at the age of 90. These interests and her teaching experience gave rise to many talks and lectures on "The Museum of London", "Healthy Eating", "Time on Your Hands", "The three Rivers Museum" and more recently shared talks on local history. For anyone who heard her, they found her to be an entertaining and amusing speaker. She was still active in delivering talks until the last few months.
Also, during these years grandchildren came along and they all adored her, being met with the same freedom of "open house", loving welcome, and plenty of food both for them and any friends they cared to bring with them! My eldest daughter once said to me when she was quite young "Mummy, Baba's nice isn't she, is she younger than you?!" There were many family holidays where she came and stayed away with each of us in turn, enjoying time spent with the young people and they with her. The grandchildren also helped her with her catering functions and in later years spent many hours patiently helping her with the computer and e-mail whilst we walked the other way!
In 2012, at the age of 90, Barbara was overwhelmed at being nominated for the MBE for "services to Rickmansworth". She was quoted as saying "When I received the letter telling me I'd been put forward for an MBE, I didn't know what to think, I still can't quite believe it. People keep congratulating me and my family are very proud, but for me it is still very surprising". She did not know whether she would be seeing the Queen or Prince Charles but I remember how she was worried about walking backwards without falling over, and about not being able to curtsey and about having to use a stick. In the end we decided that she could bow and we practised, for a long time, walking forwards and backwards with her stick and bowing. On the day, she saw Prince Charles and apologised to him for not curtseying and spoke to him about his mother whom she had met many years before. Afterwards she commented on his kind words and the memory of that special occasion stayed with her.
Sadness came again in early 2016 when our sister Margaret died. This was a great shock for all of us. Our mother, however, with increased support, managed to stay on, for the past four years, in the home she loved despite the frailty and medical difficulties which advancing years inevitably bring. Her mental faculties were as ever 100 percent, and she was still taking an active part in local affairs and the sewing group she enjoyed until her final weeks.
It has been said that Barbara's was a "life well lived" but I know that if my mother were here today she would want to be thanking all of you. It is all of you who have supported her, encouraged her, assisted her in her many ventures and enabled her to live her life to the full. She appreciated you all so much and so, on her behalf, we say thank you.
Photos from Three Rivers Museum Trust 30th Anniversary, 10 Feb 2018