Education
Parsonage Road School (the National School for Girls) in 1910 -
not how we do it now!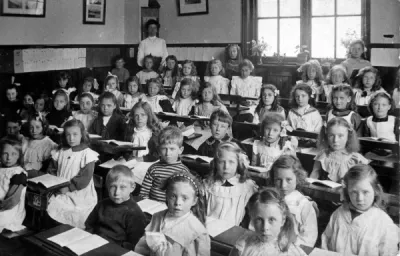 Our education programmes make real our vision: we aim to be a first stop for information and activities related to the heritage of Three Rivers, presented both digitally and physically.
The Museum is a local resource for life-long learning.

We strongly support the United Nations' dictum: "Everyone has the right freely to participate in the cultural life of the community".
We welcome individual learners of all ages: and we like to engage with Schools, Youth Groups, U3A groups, Families and any other societies interested in our area - its people, places and history – as we tell the story of 'what it was like to live and work round here'.
Our opening hours are shown in other parts of this website. But even outside them, we are able to offer guided tours, albeit of limited capacity, of the museum by prior appointment: we usually make small charge for this service.

For Schools we offer support to the National Curriculum.
We have 'handling boxes' with contents related to the following topics:
"Downstairs" in Victorian and Edwardian times

Victorian Toys

World War 2 and Rickmansworth
We can provide, by prior appointment, local school visits for classes of up to 30 in the old council chamber of Basing House. We're very happy to consult with teachers on our available resources for the curriculum – archaeology, Roman coins, local significant people, World Wars, local transport, manufacturing and business.
For youth groups such as Brownies, Beavers and Cubs we can act as a resource for Badges such as Local Knowledge and Explorers.

For Community Engagement
We welcome individuals and groups whose culture or circumstances might not have brought them into contact with the past story of this area. We're developing, in collaboration with Three Rivers District Council and W3RT, programmes to encourage and allow people from all parts of the district and whatever their circumstances, to visit and enjoy our museum and the wealth of information it contains, and this will come to fruition later in 2022.
We can lead or arrange local history walks, guided by prior appointment or self-guided with information from the museum.

And we can come to you and give talks on the museum and on various aspects of the story of the area.
Our programme of guided tours of Croxley Great Barn has also had to be suspended, but we hope to return to it in 2023.
Memories matter, and everyone has a story to tell: we also have a programme of oral history recordings, and welcome local people who would like to make a permanent record of their experiences. This need not be old! Remember that what's happening now will be history next week – so what it's like to live and work here now is of real interest to us.
For researchers
We have a large archive of photographic and other resources, notably maps, related to the area. Many of our photographs are displayed on the digital kiosk in the museum.