Famous people in Three Rivers - Vice Admiral the Hon. Josceline Percy CB
Born 1784, resident at Scotsbridge House from 1826 to the end of his life in 1856.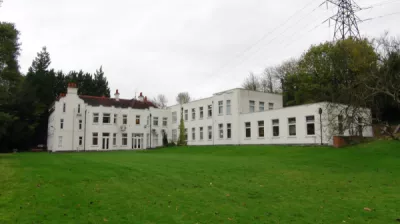 Josceline Percy, who lived at Scotsbridge House from 1826 to 1856, was the grandson of Hugh Percy, 1st Duke of Northumberland.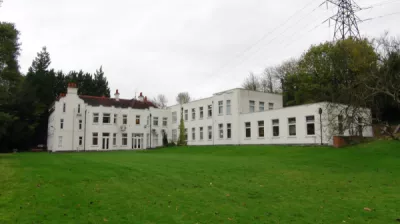 His naval service began at the age of 13 in 1797, as a midshipman in Lord Hugh Seymour's flagship HMS Sans Pareil. In her book Links with the Past, his daughter, Mrs Charles Bagot, tells that 'The Sans Pareil had several peers' sons on board and was ironically called 'The House of Lords'- the unlucky boys getting an extra rough treatment for what was certainly no fault of their own.'
He then served in HMS Amphion from 1801, in which in 1803, under the command of Thomas Hardy, Admiral Nelson took passage to the Mediterranean to take up his Command in Chief. When Nelson, with Captain Hardy, transferred to his flagship, HMS Victory, on 30th July the young Percy went with him briefly, although he quickly moved on the frigate HMS Medusa. During this time, according to his daughter, 'Lord Nelson gave him despatches to take to the Queen of Naples, and private letters to Lady Hamilton, which he was charged only to deliver into her own hands. On his return from Naples Lord Nelson gave him a sword, which is now at Levens, saying to him:"Young man, I envy you. At your age and in these times, you ought to have a fine career before you."
He served in HMS Medusa as an acting Lieutenant (he could not have been confirmed until he was 21, in 1805), but had moved to HMS Diadem before the the capture of Cape Town in 1806. His first independent command was the captured French frigate Volontaire, in which he led a convoy back to England. On his return in late 1806, already promoted to Post Captain, he became Member of Parliament for his father's pocket borough Beer Alston in Devon, in which role he continued until 1820.
He was captain of the frigate Hotspur for five years until the end of the war in 1815, but then had a number of non-naval roles including being Lord Lieutenant of Ireland, before returning to the Navy and the Mediterranean in the early 1830s.

He was appointed Companion of the Bath (CB) in 1831, but under peacetime conditions of the Navy at the time was not promoted to flag rank (Rear Admiral) until 1841, serving as Commander in Chief, Sheerness (an important shipyard) and Commander in Chief, The Nore (essentially, the approaches to London and the North Sea, an important aspect of British trade at the time). His last command seems to have been in South Africa at the Cape of Good Hope until 1846.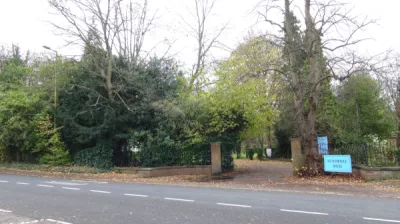 The entrance to Scotsbridge House, from Scots Hill
Already retired, he was promoted to vice-admiral in 1851, and died at Scotsbridge House in 1856. How much time he had actually spent there seems to be in some doubt, but he was without doubt one of our
distinguished residents when at home.
He married Sophia Elizabeth Walhouse in 1820. They had 4 children, a son, Alan who died in 1845, and three daughters, of whom the eldest, Sophia, wrote Links with the Past.
As well as his naval career, he was Tory MP for Bere Alston in Devon, a 'pocket borough' of his father's, from 1806 to 1820. It's hardly surprising that he and his family would have strongly opposed the Reform Act of 1832, which abolished the pocket boroughs.

Already retired, he was promoted to vice-admiral in 1851, and died at Scotsbridge House in October 1856: his burial service was conducted at St Thomas' Church in West Hyde.
How much time he had actually spent in Rickmansworth seems to be in some doubt, but he was without doubt one of our distinguished residents when at home.

Article submitted by Pat Hamilton, with extra material from Fabian Hiscock.
Sources:
John Sugden, Nelson - the Sword of Albion (London, 2014), pp. 597-607
More information and further references can be found on Wikipedia.

You can take a look around Scotsbridge House by clicking this link
(Video from the large collection of local videos on the Museum's youtube site)