Charles Voysey
Arts and Crafts architect, resident of Chorleywood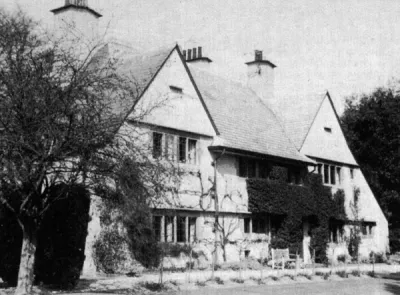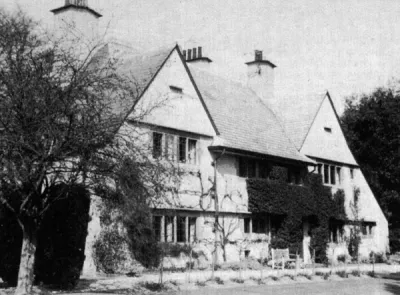 The Orchard - the Voysey family home in Chorleywood, designed by Charles Voysey
Charles Voysey has rightly been called "An Architect of Individuality". He was also one whose influence on the development of domestic architecture in this country is quite remarkable. His legacy is strong and lasting despite the relatively small number of buildings he produced during his career.

Charles Frances Annesley Voysey was born on 28th May 1857 at Hessie in Yorkshire, the eldest son of Rev. Charles Voysey. His father, a schoolmaster, who became vicar of Healaugh in 1864, was an Anglican minister who challenged the literal truth of the bible. This was not acceptable in Victorian England and he was declared a heretic and removed from his parish. He lost his case at Chancellors Court, York in 1869 and was deprived of his living. In 1871 he founded the Theistic church which prospered until his death in 1902.
Charles Voysey was educated at home by his father, and later at Dulwich College in 1872 for 18 months. He did not shine there. His grandfather, Annesley Voysey (1799-1834) had been a successful architect and engineer, and Charles's interests lay in the same direction. In 1873 he was articled to John Pollard Seddon, a Gothic revivalist, and in 1877 he started taking on his own commissions. In 1879 he went to work for Henry Saxon Snell, and in 1880 joined the office of George Devey, a member of the Theistic church. In 1881 he set up his own practice at 8 Queen Anne's Gate, moving to Broadway Chambers, Westminster in 1882.

In July 1885 he married Mary Maria Evans and established their first home and his office at 7 Blandford Road, Bedford Park. At the suggestion of his architect friend A. H. Mackmurdo, his early work was as a designer of wallpapers, fabrics and furnishings in an Arts and Crafts style, and he became very successful at this. In 1891 he moved home and office to 11 Melina Place, St Johns Wood, and then in 1895 to 6 Carlton Hill, St Johns Wood. His work as an architect got under way in 1891 with the Tower House, 14 South Parade, Bedford Park, followed by Perrycroft, Colwall, Malvern in 1893/94, Annesley Lodge, Hampstead and Merlshanger, Hogs Back, Surrey in 1896, Norney, Surrey in 1897 and Broadleys and Moorcrag, Windermere in 1898.

In 1899 he moved his office to 23 York Place, Baker Street, and began to design his own home in Chorleywood, which was to become the family home 'The Orchard' (see above) at Chorleywood in 1900. His practice flourished and he became one of the most sought-after architects for progressive middle-class clients. In all he designed some 40 houses for individual clients, mostly based on the vernacular traditions of the 16th and 17th centuries. Another house in Chorleywood is now the Catholic church of St John Fisher.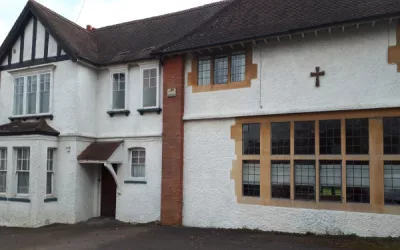 His non-domestic work was limited; the principal schemes were the Sandersons Wallpaper factory, Turnham Green 1902/03, The Whitwood Institute, Castleford 1904 and the Whitehorse Inn, Newmarket 1905. He continued his work on wallpaper, furniture and textiles throughout his career, his last recorded wallpaper design being in 1930. Changes in fashion and the effect of the First World War caused his architectural work to dry up although he continued with wallpaper and competition designs. He built no houses after 1918. He moved his office to 25 Dover Street in 1913 and then to 10 New Square, Lincoln's Inn. In 1917 he moved home and office to a flat at 73 St James Street. He became Master of the Art Workers Guild in 1924 but despite his early success he did not receive general recognition until an exhibition of his work in 1931. He received the RSA award 'Designer for Industry' in 1936 and the RIBA Gold Medal in 1940. His work lessened and his income became reduced, so that his son took him to live in Winchester where he died on 12th February 1941.
Voysey's design philosophy is best expressed in his own words in an article in The Studio in 1893: "In most modern drawing rooms confusion is the first thing which strikes one. Nowhere is there breadth, dignity or repose of true richness of effect, but a symbolism of money alone. Hoarding pretty things together is more often a sign of vanity and vain-glory than good taste. Let us begin by discarding the mass of useless ornaments and banishing the millinery which degrades our furniture and fittings. Reduce the variety of patterns and colours in a room. Eschew all imitations and have each thing the best of its sort so that the decorative value of each will stand forth with increased power and charm". His simplicity of design caused him to be regarded as a forerunner of the modern movement in architecture. Voysey, however, disliked modern architecture and resented this interpretation of his work.

Voysey's buildings were inspired by English vernacular sources of the 16th and 17th century and by the Arts and Crafts movement. Most of his houses have a horizontality and simplicity with no over-decoration. Typically he used brick walls with a rendering of roughcast finish, painted white, horizontal ribbon windows with mullions and huge pitched slate roofs with eaves coming right down so that upper floor windows are often treated as dormers. Where available plain stonework was sometimes used for main walls, unrendered. Interiors had low, wide doors, low ceilings and wide mullioned windows. Voysey designed every detail of his houses including the furniture. His furniture designs were simple and functional and sparingly decorated. Wood was left with its natural finish contrasting with beautifully detailed ironmongery and fittings. Although his output comprised only about 50 building his influence on the planning, detailing and appearance of housing in this country was immense. Many thousands of modern homes were built in his style, particularly in the 1920s and 1930s and are still valued and appreciated by their owners, many of whom are unaware of Voysey and his work and the effect this has had on their environment.